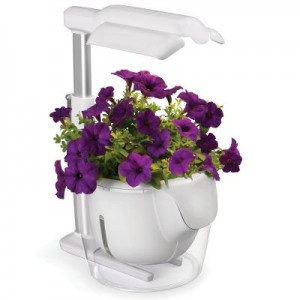 This new kitchen garden has the somewhat awkward name "Self Sustaining Indoor Garden" and is apparently only available from Hammacher Schlemmerr, not exactly the retailer for the masses.

Evidently, the success of the popular AeroGarden has invited this competition. Good! That's what our economy is supposed to do. We need competition for the uber-traditional and stagnant thinking so prevalent in the gardening world. Clay pots and drain holes were modern only in the time of the Egyptians.
I tried to find a website for the manufacturer only to find that all blog posts lead to Hammacher Schlemmer. Evidently, the manufacturer launched the product on an exclusive basis. In due time we will know the manufacturer and there will be widespread retail availability and consumer reviews. 
The beneficiaries of all this are we the consumers. Incidentally, I noted that the AeroGarden ("Kitchen Counter Herb Garden" is out of stock with this note on the Hammacher Schlemmer website "Due to the popularity of this item, we are unexpectedly sold out." Gee, what a coincidence.
There is a bright future for new kitchen gardening technology to include aeroponic appliances and kitchen composters similar to the NatureMill. Once the business world senses a bigger market, who knows what fresh food producing wonders are in store for us at more affordable prices. Be sure not to invest any of your money in clay pots.
The Self Sustaining Indoor Garden is perfect if you don't have a garden, but you want to grow your own herbs, flowers or vegetables indoors. Just like the AeroPonics Accelerated Indoor Garden, the Self Sustaining Indoor Garden provides all of the light, water, and nutrients needed to grow almost any plant you want.

The light produces just the right mix of wavelengths to quickly grow your plants, whilst the water pumps ensure that the roots don't dry out. The water contains the nutrients needed by the plants, without the need for soil. There are 6 growth pods which are rotated automatically to ensure all of the plants get an even amount of light and nutrients.

The growth techniques used by the indoor garden gadget means that plants grow up to 50% quicker than conventional plant growing methods. The garden gadget also adjusts the lighting and nutrient delivery for each of the pods during the different growth stages, namely seed germination, initial seedling growth and mature plant growth.

The Self Sustaining Indoor Garden is available for $149.95 plus delivery.